INTENTIONAL PRACTICES TO IMPROVE YOUR MENTAL AND PHYSICAL HEALTH, WELLBEING AND WORK PERFORMANCE
by Dr. Oliver Finlay
As governments began to implement lockdown rulings in response to the coronavirus outbreak, executives at companies the world over started to raise concerns about the temporary dip in productivity that would undoubtedly arise from their staff working from home for a couple of weeks. Sitting here several months down the line, it is interesting to note how wrong these C suite naysayers have been. Not only did the anticipated office shutdowns occur for far longer than initially proposed but the productivity levels have been so remarkable that many firms would not welcome a return to the previous working norms, even if a vaccine was widely available tomorrow.
According to a survey of 1 million data points across 30,000 users by analytics company Prodoscore, worker productivity rose by 47% over the first few weeks of lockdown. The average worker was starting work at shortly after 8.30 in the morning and continued until after 5.30pm in the afternoon, with markers of communication showing dramatic increases over the working day. Telephone calls were up by 230%, email up by 57% and chat up 9%, whilst markers of customer relationship management were also up 176%. Across the week, Tuesday was the most productive day, followed by Wednesday and then Thursday.
Combine positive productivity figures with the increases in the cost of leasing or purchasing office space in recent years and it's easy to reach the conclusion that many corporate institutions will be conducting in depth reviews of how their business operations will be run moving forward. On a personal level, the personal hours lost to the daily commute and the traditional rigidity of the typical working day and a move towards working from home will be met with a great deal of support from many office-based employees.
Such potential changes in the fundamentals of team working do not come without a cost, however. Many teams are finding communication even more challenging than is often the case, as virtual meetings minimise the ability to interpret non-verbal cues, such as body language and hand gestures, which can have negative effects on the fluidity of conversations and connection.
Furthermore, individual employees risk being negatively impacted, as a lack of visibility to senior leaders and decision-makers can lead to being overlooked for promotion – yes, out of sight, really can mean out of mind. Meanwhile, this lack of interaction between junior and more senior members of a team can result in learning and knowledge transfer being affected, as daily mentorship and coaching fall by the wayside.
It is for reasons such as these, that whilst there is no doubt that working from home (WFH) is here to stay, going into the office is not an activity that is about to be consigned to the annals of history. The new normality is more likely to present some form of a hybrid model, where companies downsize their central physical footprint but expect team members to come to the office at least once a week to meet up. The role of the office will potentially change to become a place for the collaboration and group work that is necessary to promote risk taking and creative thinking, as opposed to a place for doing the routine work that can be done at home.
The outstanding issue that remains for employees when adapting to work in this new situation, is that this is something we were never trained how to do. As odd as that may sound, there are key practices that must be learned in order to maximise productivity and maintain mental and physical health when working from home. Without putting the necessary boundaries in place, it is very easy to drift in and out of a working day, leading to the adoption of poor work habits and causing detrimental effects on our personal lives too.
---
5 Tips For Creating a Visually Impactful Video Backdrop
When it comes to interior design tips, Iconic Concierge usually turns to Ryleah Resler of Ryleah Shae Creative. Ryleah is a designer and visual director, who has showcased her work at many of the corporate events held around Vancouver. When it came to needing a little advice on how to create a professional video conferencing presence, Ryleah was the perfect person to ask, as she has recently started consulting for professionals working from home.
Ryleah says, "The work from home lifestyle is here to stay, but there is one office element that is often overlooked… your background. Whilst you might be able to get away with wearing PJ bottoms paired with a nice top, the items in your environment speak volumes about who you are, and it isn't always doing you any favours." 
Below are Ryleah's top 5 tips to help you create an authentic, personal feel to your video calls while leaving a lasting impression:
1. Consider your backdrop as a visual storefront or an extension of your brand. This is a great opportunity to showcase not only your style but your qualifications and credibility. This can be achieved through finding items that represent your profession or passions, which are aligned with your work. Bonus points – tie in colours from your branding. 
2. Think beyond a blank wall, which isn't the only answer to creating a backdrop with a professional appearance. Use items such as bookshelves, greenery, wallpaper, or art work to keep it visually interesting and leave a memorable impression. 
3. Don't overlook the lighting. Ideally, place yourself in front of the brightest natural light source, or use soft even lighting where needed. 
4. If possible, set up a permanent location to host your video calls. Save valuable time by not having to worry about cleaning up clutter or what your surroundings look like when the camera light goes green. 
5. Remember – your background supports your message. Remove any items that create a distraction or don't directly represent who you are. Your environment can portray a lot about you so ensure it reflects you appropriately. 
So, experiment, get some feedback from colleagues or friends and ensure that you portray a professional image of yourself on your future video calls. If that sounds like too much of a challenge, reach out to Ryleah at www.RyleahShae.com or check out her Instagram @RyleahShae
---
15 Intentional Practices to Introduce to Ensure Working from Home is Sustainable
1. Create a Dedicated Workspace – dining tables and dining chairs were meant for dining (the clue is in the name!) and whilst these temporary arrangements worked in the short term, in the long term, working conditions such as these will lead to back pain, neck pain and a cluttered apartment that prevents you from working productively or relaxing effectively. Dedicate a clutter-free space for a home office and furnish accordingly, keeping desks for work and work alone.
2. Create Your Working Image – whilst it was a curious novelty to log in to a Zoom call and see people working from their sofas or kitchen table a few months ago, the time has come for all of us to promote a more professional image if working from home is here to stay. Rightly, or wrongly, what people see behind you on their screens will impact their impression of the work you do on yours. As a result take some time to be intentional about your environment by staging your backdrop and if interior design isn't your bag, there are people out there that can do it for you. See Ryleash Resler's tips above for creating an impactful working backdrop.
3. Create Boundaries – ensure you have clearly defined work time and clearly delineated rest time. If you are always in work mode, or never completely detached from it, the quality of your work will suffer. Be sure to take breaks outside of your workspace and don't answer your phone to work colleagues or sneak moments to check your emails out of your defined work hours.
4. Create Your Work Schedule – just because your workstation is in your house doesn't mean you should be bleeding work tasks into personal time. Set your work hours and stick to them, leaving work behind at the end of the day, just as if you were walking out of the office and closing the door behind you. Consistent daily routines have been shown to have a positive impact on both your mental health and your sleep.
5. Create a Commute – "traveling to and from the office used to require a walk, cycle or at least a change of scenery, which boosted circulation and created an opportunity for your brain to get ready for or decompress from the trials and tribulations of the working day. So, go for a short walk or a cycle before you sit down at your desk at the start of the day, as sunlight helps reset our circadian rhythm and has several health benefits, including stimulating serotonin production. Then, after you've shut down your computer at the end of your defined "office" hours, change out of your work clothes and get outside again to increase your heart rate and promote increased circulation.
6. Get Dressed For Work – just because you can, doesn't mean you should wear your pyjamas to work. Even if your work attire is less formal than it was this time last year, getting dressed for work helps create the attitude that you are ready for business. It's easier than ever to create your own personal version of business casual, as companies such as Lululemon are launching dedicated clothing ranges with this in mind.
7. Create Intentional Communication Practices – the ability to check in on colleagues and stay visible to management is far more challenging now, with the spontaneity of walking past someone's desk for a chat being replaced by texts, calls and scheduled meet up, using tools like Slack. This demands a more intentional approach to communication and ensuring that "out of sight" doesn't mean "out of mind".
8. Create Collisions & Space For Informal Chats – whilst catching up with colleagues at the coffee machine or water cooler is a thing of the past, the valuable conversations that stemmed from these collisions were vital to creativity. Leaders must set up times for and facilitate team interaction, using technology platforms to schedule impromptu chats and discussions without structure or a specific focus.
9. Create a WFH Community – In a 2019 report by Duffer, 19% of people working from home identified loneliness as their biggest struggle with remote working. Social isolation is detrimental to health and one of the biggest challenges with working from home is that the group of colleagues you used to hang out with over lunch or grab a quick happy hour drink with on a Friday after work are now scattered around your city. Using apps like House Party or other social networking platforms can help you catch up virtually over lunch or even have fun together after work hours.
10. Create Work Rituals – whether it's your pre work routine, a special work playlist on Spotify, the mug you only use "at the office", or your rule of taking less formal calls on your cell phone as you walk around the block, work rituals can help make your work life a little more balanced, productive and help combat some of the biggest challenges to productivity.
11. Take a Lunch Break – when you're working so close to your refrigerator, it's very tempting to graze all day. But having a delicious light lunch can help you curb that feeling. Additionally, spending hours sitting at your desk can take its toll on your posture, so getting up to make some food and using the opportunity to stretch your back, neck and legs is important. The mental break will also boost your ability to maintain early afternoon productivity, as the post-lunch slump threatens to make you more susceptible to distractions.
12. Hydrate – it's easy to forget to drink enough water when you don't have a water cooler nearby to use as an excuse to stretch your legs. Starting the day with hot water and lemon is an Ayurvedic recommendation to promote healthy digestion and keeping a water bottle or refillable pitcher of water on your desk is an effective mental trigger to ensure you don't dehydrate.
13. File Your Papers – it's more important when your work desk is in your living space to keep your desk tidy. Confine work papers to your work desk and file them away in a dedicated tray at the end of the day. Don't let them spill over on to the floor, dining table or sofa, otherwise you'll find it more difficult to switch off at the end of the day.
14. Say "No" – just because you're around the house, family and friends can mistake your proximity for availability. If you were at the office, no one would ask you for a quick ride to the grocery store or for a helping hand with cleaning out the closet. So be polite but resolute and schedule your good deeds for when you have finished your working day.
15. Ensure Days Off Are Days Off – when your work is so close at hand it can be tempting to reach for the laptop and just check your email or finish off that project that is so nearly done. Don't. By creating space for rest and relaxation, you'll properly recover from the stresses of the workplace, whilst also perform better when you go back to your desk.
---
6 Investments to Help Optimise Mental and Physical Health, Wellbeing and Performance When Working from Home
1. Height Adjustable Desk – whereas the health and safety team in your office will have completed a full workstation assessment to ensure your office furniture is ergonomically suited to your individual anatomy, working from home means that people have initially been working from their dining tables. These are not conducive to healthy posture. In a move to stave off work-related injuries, many companies are now investing in work from home allowances to ensure employees have suitable office set ups at home and adjustable height desks are the first place to allocate that budget. We love ChopValue's Home Office Desk and Work Station, as both are height adjustable and are suitable for working in a seating or standing position. Furthermore, you can rest assured that you are investing in a beautiful, conversation piece, made from upcycled 9,600 and 10,800 chopsticks that have been used in local restaurants supporting the circular economy and storing between 14,318g and 20,020g of carbon at the same time. www.ChopValue.com
2. Air Purifier –Austin Air Systems have a range of units that can operate quietly in your house or apartment to improve the quality of the ambient air and as a result reduce the impact of allergies or poor sleep caused by air pollution.
We liked the HM400, which is a speciality air purifier, and really noticed an improvement in indoor air quality even after a short period of time. It apparently contains 15 pounds of granular carbon and zeolite for the adsorption of odours, gasses and chemicals found in smoke, which made a big difference whilst we were researching this article during the week that the forest fires from south of the border had contributed to Vancouver recording the worst air quality rating in the world. In comparison to other units we looked at, the 360-degree intake system draws air into all sides of the HealthMate, before passing it through a 4-stage filter and I would imagine that was why the difference was so noticeable, so quickly. For those of you that suffer from pollen allergies or pet hair allergies, the filter removes 99.97% of all particles as small as 0.3 microns and 95% of particles 0.1 microns and larger, including pet dander, pollen, mold spores, dust mites, bacteria and viruses (MERV-17 Rating).
3. Computer Monitor – most offices supply those that spend countless hours in front of a computer screen with, well a proper computer screen. Whilst working on your laptop is fine for spells on the road, working in front of a small screen ad infinitum is a strain on your eyes. Investing in a large, high resolution screen with ambient lighting will reduce visual fatigue and reduce the risks of you adopting a permanent squint. Apple's Pro XDR Monitor is not just a beautifully crafted unit, with a sculpted alloy back, it's design allows for a natural cooling effect that reduces the need for noisy fans and thus reduces its energy consumption. The Retina 6k LCD screen displays incredible image quality! www.apple.com
4. Smart Watch – wearable technology is everywhere these days and is becoming more sophisticated in its ability to detect biometric information. The latest apps can monitor your activity levels, remind you to get up and move around in the absence of the trip to the office water cooler and, by the end of the year, will even give you access to fitness classes. Apple's latest release, the Apple Watch 6, will be a portal into Apple Plus, the new online fitness service and has fitness apps that will prompt you to stay active even if you've foregone the daily commute to the office. It can even monitor your sleep quality! www.apple.com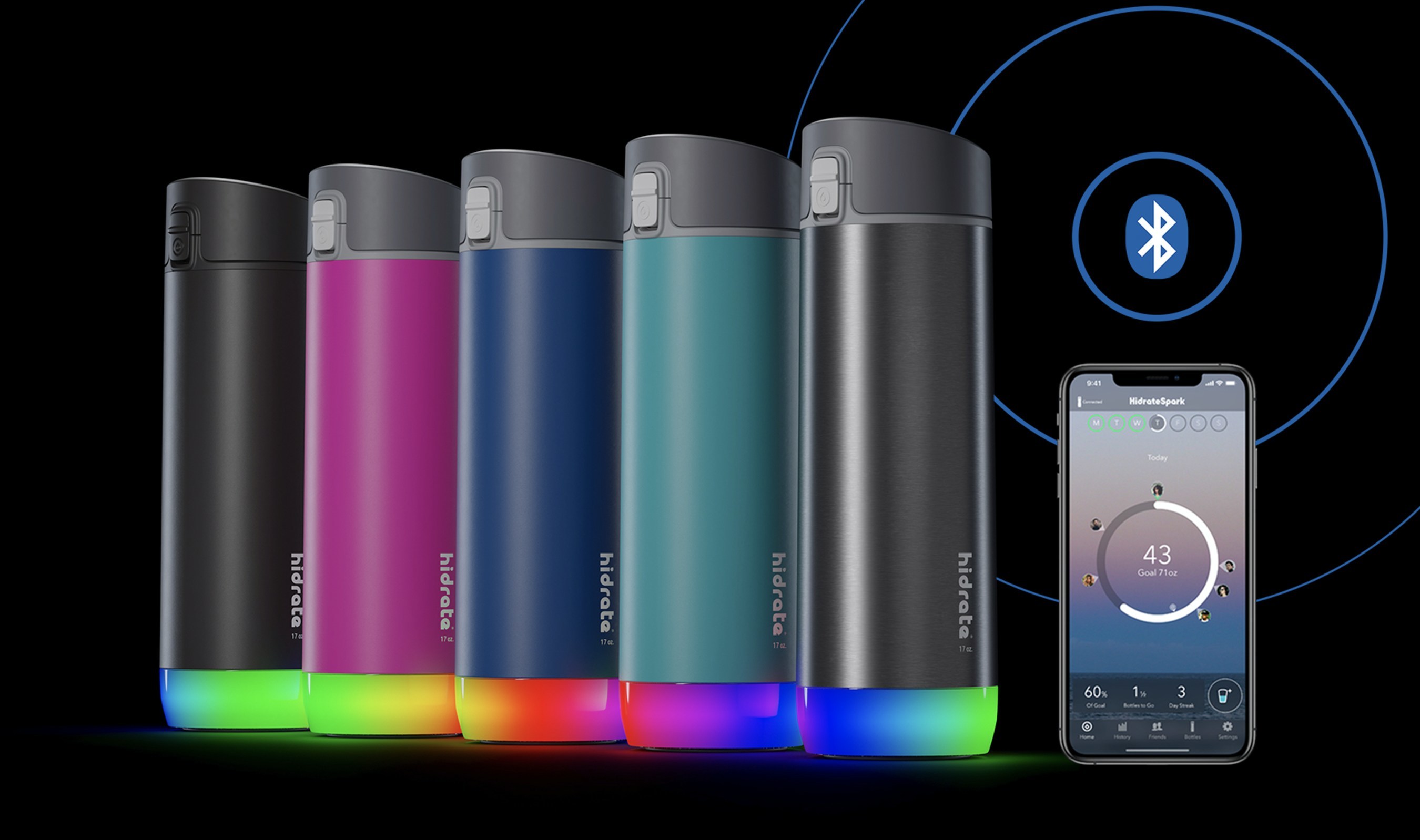 5. Smart Water Bottle – one of the biggest issues from working from home is dehydration. It's all too easy to get drawn into our work and before we know it, 3 hours has passed by and we've not moved. No one has offered you a hard-earned cuppa or pulled you away for a chat over a coffee. Smart water bottles can now provide that nudge to drink, either by lighting up or synching with your phone to text you reminders. The HidrateSpark is a steel marvel with a colourful soul…or should it be "sole"? The base houses a brain that communicates with your phone to calculate how much you should drink in an average day based upon your height, weight and activity levels. It then lights up to remind you to drink and keeps a track of your fluid intake for the day.
www.hidratespark.com
6. Filing Draws – the classic ideas are also the most effective. At work we are surrounded by cupboards, drawers and filing cabinets dedicated to housing our work clutter. At home, every nook and cranny is taken up by clothes, sports equipment, tools or alcohol! Bisley have launched a new range specifically for the home office. "New" doesn't mean they've abandoned their eye for classic style though and many of their units are perfect for fitting on your desk or shelf, to ensure that you can pack away your papers when you switch off at the end of the day. www.bisley.com